Happy Australia Day Mates!
January 27th, 2013 by May
This weekend, Australians all over the southern continent are celebrating Australia Day – the official national day of Australia. Cinema-wise there is no doubt that Australia has given us some significant contributions – from actors like Nicole Kidman, Russell Crowe and Cate Blanchett to directors like Peter Weir and Baz Luhrmann.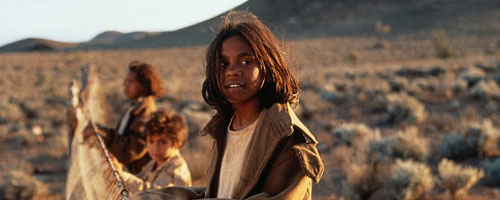 To note this festive day, we're taking a look at 10 great achievements of the Australian film and TV industry, showcasing the many different styles and genres they excel in.
Bleak and rough crime drama - Animal Kingdom (2010)
The underworld of Melbourne never seemed more tense. In this excellent crime drama, a young criminal tries to survive in a complex crime family. An impressive ensemble cast includes Jacki Weaver, who was nominated for an Oscar for this role and is also nominated this year for The Silver Linings Playbook.
Clever mystery drama - Lantana (2001)
One night a psychiatrist mysteriously disappears. A detective whose wife was a patient of the psychiatrist is called out to investigate. The characters are much more complex and layered than in your usual police investigation films, and the entire atmosphere is reminiscent of Twin Peaks.
Stylized crime series - The Straits (2012 ongoing)
The series follows the Montebello family, whose business involves smuggling drugs into Australia as well as getting guns and exotic wildlife out, making use of ties of blood and loyalty in the Torres Strait Islands. Some called this show "the Australian Sopranos", and it's acclaim led to it being purchased for an American premiere by Hulu.
Gender dramedy - The Adventures of Priscilla, Queen of the Desert (1994)
One on the most known achievements of Australian cinema, this heartwarming tale tells the story of three drag queens traveling across Australia in a bus, each dealing with his own internal and external demons. The success of the film also spanned a stage musical with several productions on Broadway and worldwide.
Gloomy romantic drama – Candy (2006)
Two bohemians – a poet and an art student – fall in love. sounds cute so far, doesn't it? The only problem is, they are both Heroin addicts. What starts out as a sweet love story soon turns into a doomed junkie love affair, full of self destruction and despair. The two leads are portrayed by the late Heath Ledger and Abbie Cornish, two more fine examples of great Australian actors.
Captivating rough series – Underbelly (2008 ongoing)
Based on real events, this action-packed TV series depicts Australia's most infamous criminals and stories. Each season deals with a different period and different events (while all of them remain based on true stories), including drug trade, the gang era of the 20s and 30s, life of murderers and kidnappers etc.
Fish out of water comedy - Crocodile Dundee (1986)
A humorous escapades film dealing with culture clash, Crocodile Dundee tells the story of An American reporter who travels to the Australian outback to meet an eccentric crocodile poacher and invites him to New York City. It's one of those films you can see over and over again, without getting tired of it.
Emotional music drama – Shine (1996)
Geoffrey Rush, who is my personal favorite Australian actor, does an amazing job here (which earned him a most justified Oscar) as David Helfgott, an incredibly talented yet mentally unstable pianist. The portrayal of David through his childhood with an abusive father, his mental breakdown and the unlikely events that led him back to the concert hall is both bittersweet, sincere and uplifting.
Tense society drama - The Slap (2011)
A single event of an adult slapping a child (not his child, mind you) opens a Pandora box of ill social relations between couples, family members, friends and neighbors. This talked-about series was already purchased for broadcast in many countries worldwide, including Brazil, Norway and Israel.
Slow period drama - The Piano (1993)
It's amazing how a film can be so slow and heavy and yet so captivating and gripping. Harvey Keitel and Holly Hunter are both wonderful: Hunter as a mute woman who falls in love with a local worker (Keitel). The beautiful cinematography and scenery also contribute to this acclaimed film.
What are YOUR favorite Australian films and TV shows? And do you have any favorite Australian actors or directors? Let us know! You're welcome to Like us on Facebook and share your thoughts on our page >> www.facebook.com/Jinnidotcom
Technorati Tags: Australia Day, Nicole Kidman, Russell Crowe, Cate Blanchett, Peter Weir, Baz Luhrmann, Animal Kingdom, Melbourne, Jacki Weaver, Oscar nominee, The Silver Linings Playbook, Lantana, The Straits, Montebello, Torres Strait Islands, The Adventures of Priscilla, Queen of the Desert, drag queens, Candy, Heath Ledger, Abbie Cornish, Underbelly, drug trade, Crocodile Dundee, Shine, Geoffrey Rush, mental breakdown, The Slap, The Piano, Harvey Keitel, Holly Hunter
Popularity: 1% [?]