August 6th, 2013 by May
This weekend sees the release of a feature film focused on the life of a white house butler. Butlers are rarely seen in leading roles, as they often appear in films and TV as a way to show different sides of the main protagonist, or as a comic relief. The least we can do to honor them, is list 10 great butler characters:
Alfred – The Dark Knight trilogy (2005-2012)
Responsible, caring and not afraid to be harsh when circumstances call for it – Alfred was more than just a butler to Bruce Wayne. In fact he was more of a much-needed father figure, who took care of the orphaned Bruce since he was a kid and directed him down the right path. Michael Caine is so memorable in this role we can hardly remember there were other "Alfreds" before him.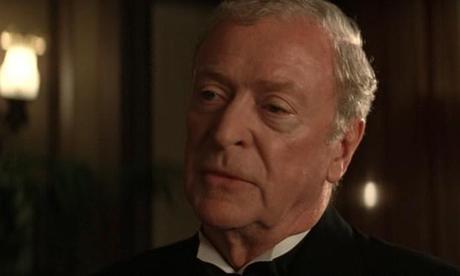 Max – Sunset Blvd. (1950)
We meet Max as the butler of the former Hollywood star Norma Desmond, but as the film progresses it turns out he was her director and husband. In a world blind to Norma's past glory, he is the only one willing to do anything to keep her in her fantasy world.

Mr. Carson – Downton Abbey (2010 ongoing)
Literally the heart of the house, Carson is the head butler of the lavish estate and takes care to everything going on there, from clean napkins for dinner to advising the master in delicate issues. Goodhearted and extremely loyal, Carson sees his profession as a true calling and will do anything to keep Downtown in top shape.

Geoffrey – The Fresh Prince of Bel-Air (1990-1996)
Sarcastic and wry, Geoffrey is the British butler of the African-American Banks family. He starts the show as a very prim and proper English gentleman, but soon embraces the more relaxed, humorous American tone – without losing his excellent dry humor.

Jennings – Gosford Park (2001)
Alan Bates plays the butler in an estate filled with footmen, maids, valets and every other known type of servants British aristocracy has invented. He has eyes and ears everywhere and even manages to hear a confession that might be very relevant to the murder mystery…

Lurch – The Addams Family (1964-1966)
Lurch is a tall (over 2 meters), shambling, gloomy butler who somewhat resembles Frankenstein's monster. He is especially known by the slow, low-voiced phrase "you rang?", which is especially interesting since he was originally meant to be a nonspeaking character.

Hobson – Arthur (1981)
Winning an Oscar for portraying a butler is no mere thing, and John Gielgud did just that in the 1981 version of Arthur. His official title on the film may be a butler, be he actually functions more as a nanny, valet and personal caretaker to Arthur, a rich and spoiled heir who can't seem to grow up.

Niles – The Nanny (1993-1999)
Niles is the butler and chauffeur for the Sheffield family. He is a 2nd generation butler and "inherited" his father's position, so he and his master have known each other their whole lives. When Fran "the nanny" arrives he instantly befriends her and embraces the fresh presence she brings to their dull lives.

Emilio Lopez – Mr. Deeds (2002)
John Turturro, great as always, portrays a long-serving butler and illegitimate son of a multi-billionaire who died. He has a habit of sneaking up on people unexpectedly, and has a foot fetish. Yes, it's an Adam Sandler movie…

Cecil Gaines - The Butler (2013)
Unlike most butlers on this list, who appeared as supporting characters and often tend to be on the humorous side, this is a serious film focusing on a butler. But not just any butler: Cecil Gaines was a white house butler under no less than 8 presidents, and through his eyes the movie portrays major social and political changes. Could this be the first Oscar bait of the season?

>> To comment on this blog post, or to share your own insight on entertainment, join us on Facebook: www.facebook.com/JinniDotCom
Technorati Tags: Butler, Alfred Pennyworth, Michael Caine, Batman, Bruce Wayne, Dark Knight, Fresh Prince, Nanny, Fran Drescher, John Turturro, Adam Sandler, Mr. Deeds, Arthur, Hobson, Loyalty, Downtown Abbey
Popularity: 2% [?]